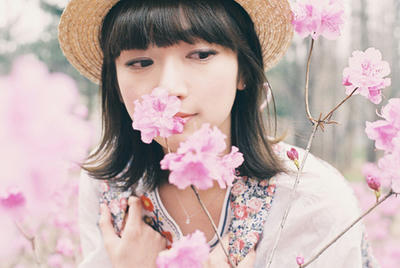 I am a big fan of falafel, and every once in a while I get a craving for a good falafel sandwich, either from our local Lebanese hole-in-the-wall, or from the ever-thronged l'As du Fallafel on rue des Rosiers.
Seduced by the idea of an easy, ready-made dinner item, I have on occasion bought falafel from the organic store, in little plastic trays of fifteen, and they were quite tasty. But they cost a small fortune — a little over 4€ ($5.5) for fifteen two-bite falafel — for something so cheap to produce, so I got it in my head to make my own instead.
I certainly don't object to fried foods on principle, but I do avoid frying anything in my own (open) kitchen, as I balk at the inherent prospect of scrubbing the stove, and having my entire apartment smell of hot grease. So frying wasn't an option, but baking in the oven was.
As it turns out, making falafel couldn't be easier: you'll soak dried chickpeas overnight, then grind them with some onion, garlic, spices, and parsley if you like. You'll shape this crumbly mixture into balls or patties, and fry or bake, as prefered.
I was also delighted that this gave me the perfect opportunity to use the grinder attachment a friend gave me for my KitchenAid mixer a few years ago, and which had been sitting untouched in one of my kitchen cabinets since then. But if that's not part of your kitchen arsenal, fret not: a mixer or blender will do just fine.
And a more rewarding kitchen venture you'll seldom encounter: the baked falafel turned out crisp and flavorful, and when assembled into pita sandwiches with my simple tahini sauce and lots of crudités, they made for a wonderful treat of a weeknight dinner.
And for the cost-conscious among us, I got forty falafel balls out of this recipe, at an (all-organic) ingredient cost of roughly 2€ ($2.75), which makes them out to be about five times cheaper than the store-bought option. Check my homemade hummus recipe for more chickpea money-saving tips.